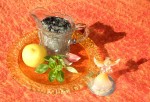 October 27, 2012 @ 4;00pm, $40 in Cupertino, CA
Sign-up @ South Bay Raw MeetUp
~ Learn all about the magic of black foods
~ Learn how to easily prep these foods (lively demo)
~ Celebrate and enjoy the yumminess
~ Have fun & socialize in a beautiful environment
MENU
Mikaële's Famous Black & Gold Smoothies
Wild Chaga Mushroom Tea Base
Lots of high antioxidant superfoods (surprise)
Raw Cacao Bon Bons
Indulge in these super rich, nutritionally potent chocolaty bon-bons rolled in coconut flakes. Easy to make, great for parties, snacks, kids and anytime you get the urge for a splurge!
Sprouted Black Quinoa Salad
Black quinoa awakens to it's full potential when it is soaked and sprouted. Lots of colorful raw veggies and fresh green herbs are tossed in and a bright green basil pesto crowns the top. The pesto is a true complement to this dish as it increases nutrition, adds a great fresh flavor and a bright look!
Black Sesame Pesto
A dipping sauce for fresh veggies or a dressing for grain salads!
Fresh vegetables from our local farmer's market are cut into chip size pieces just right for dipping into this most delicious and unique pesto. Add a little water to Black Sesame Pesto and it turns into a dressing suitable for grain salads and kale salad.
 Mikaële Holzer is founder of Green Your SPIRIT™ and co-founder of The POP Campaign, as well as the Marin Raw Food & Vibrant Health Meetup Group.  She's a Certified Health Educator from the world renowned Hippocrates Health Institute and a living foods lifestyle coach, in addition, Mikaële facilitates an all organic, live juice and green superfood cleanse. GreenYourSpirit.com
Jia Patton is a vegan and raw food chef and author of four cookbooks. She headed her own cooking school for over fourteen years, teaching the importance of using organic, locally grown fruits and vegetables and how to incorporate high nutrition foods into your diet. She is working to get GMO foods labeled in CA.CookingWithJia.com
| | | | |
| --- | --- | --- | --- |
| Raw Black Foods Class (South Bay) | Oct 27, 2012 | $40.00   + | $1.99 PayPal Fee |