Celebrate An Abundant Life!
With Black Foods!
High Phyto-Nutrient Infused Cuisine ~ by Chef Jia Patton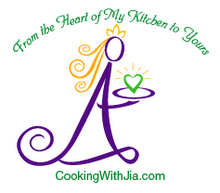 Zucchi Bites
From the abundance of my garden comes this new food that will make your taste buds dance!
Tri-Tonic Tea
Chaga Mushroom, Pau 'd Arco, Goji Berries. An immune builder!
 Sprouted & Steamed Black Quinoa Salad
~ tossed in a lemon dressing & topped with Simple Basil Pesto ~
Black quinoa awakens to it's full potential when it is soaked and sprouted then steamed to perfection. Lots of colorful raw veggies and fresh green herbs are tossed in and a bright green basil pesto crowns the top. The pesto is a true complement to this dish as it increases
the nutrition, adds a great fresh flavor and a bright look!
 Black Sesame Pesto
~ A dipping sauce for fresh veggies or a dressing ~
Fresh vegetables from our local farmer's market are cut into chip size pieces just right for dipping into this most delicious and unique pesto. Add a little water to
Black Sesame Pesto and it turns into a dressing suitable for grain salads and kale salad.
 Jia's Birthday Chocolate Caramel Cups
A bite into these luscious chocolates reveals a caramel-like center made with amazingly healthy ingredients. What makes these chocolates even more special is they are medicinal as Chaga mushroom powder (a black food), Spirulina (a building and cleansing food), a probiotic (repopulates our digestive track with good bacteria) and a hint of cinnamon (balances glycemic, sugar, load) are added for your good health!
 If you are interested in this event or have questions, please email me at: CookingWithJia@GMail.com